The Entrance to the Skocjan Cave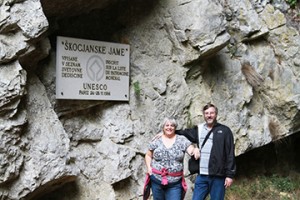 Skocjan Caves are so close to Venice that we just went up for the day.  We didn't even stay in Slovenia.  You must go on a tour through the cave which is well done, but there are always so many people.  We have about 50 on the English tour.  The whole area is beautiful around the caves as well.
Skocjan Caves – Slovenia
https://www.gounesco.com/heritage/proof/entrance-skocjan-cave/
https://s3-ap-southeast-1.amazonaws.com/gounesco.com/wp-content/uploads/2014/03/27164355/sckojan_go.jpg
https://s3-ap-southeast-1.amazonaws.com/gounesco.com/wp-content/uploads/2014/03/27164355/sckojan_go-150x150.jpg
caves,corrinne vail,Europe,heritage,Skocjan Caves,slovenia,world heritage travel
Skocjan Caves are so close to Venice that we just went up for the day.  We didn't even stay in Slovenia.  You must go on a tour through the cave which is well done, but there are always so many people.  We have about 50 on the English tour....
Corinne
Vail
corinne_vail@hotmail.com
Proof_user
Photographer. Traveler. Lover of life. Travel and Photography blogger at http://www.reflectionsenroute.com
GoUNESCO | Go UNESCO
Tags: caves, corrinne vail, Europe, heritage, Skocjan Caves, slovenia, and world heritage travel.