Najeebullah, 32, remembers the exact date, time and year of his arrival in New Delhi. In June 2013, he left the violence of his home in Afghanistan behind, with his wife, older daughter and six-month old baby girl in tow, to start afresh in India. "We have known fear in our own home, looking death in the eye, day and night. Nothing scares us anymore," he says of the uncertainty of leaving his old life behind.
Dressed in a powder blue Pathani suit, Najeebullah looks at ease at the Afghan General Store, which he runs with an Indian partner out of a basement in Lajpat Nagar 2. Over the years, Delhi's bustling Lajpat Nagar, a colony originally built for partition refugees from Pakistan, has also become home to Afghans fleeing the turmoil in their country. The exodus began in 1979 with the Soviet invasion of Kabul and continued even after the fall of the Taliban regime in 2001. Today, there are at least 11,000 Afghan refugees registered with the UNHCR (United Nations High Commissioner for Refugees), living mainly in the capital city.
Najeebullah's store caters to the predominantly Afghan population in the area. While the store has everything that's available at a regular general store, there are a few things that are of special value to its Afghan patrons, like chilgoza (pine nuts found in Afghanistan, Pakistan and northwest India), khajoor a deep fried Afghan dessert and Pegah Cream, imported from Iran, which is thicker than regular Indian-made dairy.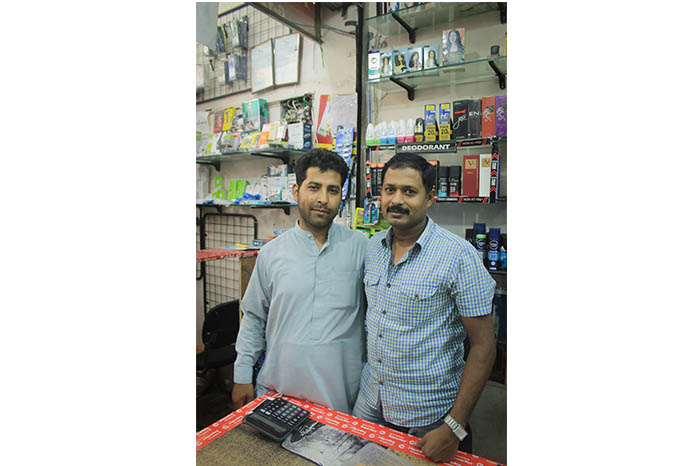 In the afternoons, Najeebullah's friends and fellow Afghans gather in the store to drink chai and exchange banter in Farsi. Their children, many of who have now been assimilated in local Indian schools, are often seen playing in the isles. "We had our own homes, our own fields where we played among anar (pomegranate) trees. Nothing remains," laments Shujauddin Rizae, 37, an Afghan at the store who fled Kabul two years ago with his wife and seven children. He reveals a long, ghastly gash on his right arm from an attack on his life two years ago. Rizae is not certain who comprised of the mob – Talibs, Daesh or just local goons looking for money from his lucrative mobile repair shop. But when threats to harm his family began pouring in, Rizae decided to pack up and leave.
The Flavour of the Motherland
The street outside the store could just as well be a by lane in Kabul. The bustling area is full of men in crisp Pathani salwars and women in fashionable abayas, a departure from the burqa once imposed by the Taliban back home. Every sign board in the street, lined with Afghan eateries, chemists, travel agencies, money exchangers and shops, is both in English and Dari, one of Afghanistan's two official languages. Even the establishments run by Indians, like Shri Sai Travel Agency, have signage in Dari. Most Afghans, however, have little trouble in speaking Hindi. When they showed up in Delhi, many already knew Hindi owing to the popularity of Bombay cinema. Atiqullah, 26 and Qaisi, 40, friends who run one of the many restaurants on the street, suspect Sholay (1975) would still be a blockbuster hit if it came to the half dozen remaining cinemas in Kabul.
Sitting in their restaurant, aptly called Kabul Delhi and ceremoniously decorated with Afghan durries and wall hangings, the two speak fluently in Hindi. Their passion project has been in business for nearly a decade. The restaurant provides its Afghan patrons with respite from the spicy, garam masala-laden Indian food. The kitchen is busy from noon till midnight, serving up authentic delicacies like kabuli uzbaki pilaf (mutton pulao from northern Afghanistan), qaburghi kebab (mutton chops made popular in Qandahar and Herat) and bolani (a flatbread stuffed with vegetables, which Atiqullah describes as the Afghani aloo parantha). Another famous dish is the ghosht dopiaza, mutton slow-cooked in an onion gravy, which originated in Afghanistan but is now popular even in north Indian and Mughlai cuisine. The Persian term dopiaza refers to the practice of adding onions at two different stages during the preparation.
Though most ingredients are available locally in Delhi, the two do miss fresh grapes and anjeer (figs) of the Afghan variety. While Atiqullah's reasons to leave Kabul were not so much to escape strife as it was a business opportunity to bring his local cuisine to Delhi, he does feel freer in Delhi than in his own city. "In Delhi, our families can stay out late in the street or enjoy Eid celebrations without fear of a blast or an attack," he says matter-of-factly. "Yahin par humne apna ek chhota Kabul bana liya hai (we have created our own Little Kabul here)," chimes in Qaisi.

The Naanwais
A little way away from Kabul Delhi, street sellers offer freshly baked Afghan naan. Jalaluddin Islam, 30, comes from Jowzjan province, roughly 500 kilometres from Kabul. After many years of waiting, putting money and resources together, his family was able to send him to Delhi where he hoped to find better work. The Taliban regime had laid waste to all farmlands and jobs. Despite the searing Delhi summer, Islam churns out fresh and fluffy naans out of a tandoor. A shemagh or scarf wrapped neatly around his head, his light, central Asian complexion looks flushed in the sub-tropical heat. But Islam looks happy enough as he jokes about the prospect of ever returning home – "Agar zinda raha toh inshallah jaunga, nahi toh Nizamuddin (if I stay alive I will return home someday, or else someone will take my body to Nizamuddin dargah)," he quips jovially.
He learnt how to cook the special Afghan bread at a young age, in his mother's kitchen. A dash of sugar and salt in the batter does the trick he says, as he describes why Afghans can't make do with the Indian roti. Islam lives alone in a rented accommodation in Delhi. In his hours away from work, he likes wandering the city's streets and lounging in the many parks. Delhi or its people have never been unwelcoming to him, he says.

In Search of an Identity
The Afghan populace, however, does hope for more from the city and the concerned authorities. In the last decade, the Indian government has issues thousands of medical visas to middle class Afghans looking for alternatives to their country's abysmal healthcare system. But the refugees, those who have left Afghanistan behind and have little hope of returning, want the government to accord them with an identity other than their statelessness. Rizae wishes the UNHCR would do more to resettle them apart from providing them with a blue card that prevents their deportation. He says he has found little support in earning a livelihood and feeding his family of eight. Without proper paperwork or an identity, the refugees have no way to open bank accounts or be hired in the formal sector.
Najeebullah finds it tough to pay rent, school fees and sustain a business at the same time. Even to open the shop or any other establishment, all the paperwork has to be in an Indian citizen's name as refugees can't own property or businesses. He was lucky to have found a partner in Mohd Shakeel, a karigar from Bihar, with whom he shares a trusting friendship. "Zindagi ki yehi reet hai (this is the way of life)," says Najeebullah, quoting a famous Hindi song from Anil Kapoor-starrer Mr India wryly, before he adds "ache din nahi aate (good days don't come back)".
Despite hardships, however, the Afghan community have rebuilt their lives in Delhi. Many of their children may never know life in their own watan. No longer will the fruits of the homeland ripen in their backyard nor will the winter feel familiar. But little by little, through food, language and friendships, their shared experiences are making Lajpat Nagar's Little Kabul feel a bit more like home.
Article by Suhasini Krishna